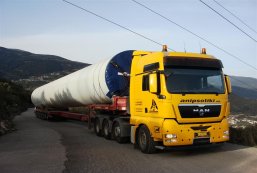 ANIPSOTIKI S.A.
Lifting operations, heavy haulage, erection, electromechanical assembly and service of wind turbines, integrated solutions.

Integrated Solutions

Programming, design, safety and flawless execution are our focus areas, achieving excellent results. 
 
Our long experience in combination to the special equipment we handle has made us capable of undertaking all work required for transport, lifting and placing heavy equipment on large projects.
 


Clients

Serving a wide range of customers  

Greek Government, Public Utilities, Engineering - Construction companies, Industries, Refineries etc.

Services
Lifting
We own crawler and mobile cranes
Special Transportation
We provide transportation services with modular trailers of towing capacity up to 918 tons
Erection Wind Turbine
We provide the necessary personnel (60 skilled persons) for wind turbines' erection and service
Design

Alternative ways of lifting:

Since 2009, our company invests in the purchase of special machinery for the lifting, transport and placing of heavy equipment up to 800 tons, with specialized systems and ancillary equipment.
more